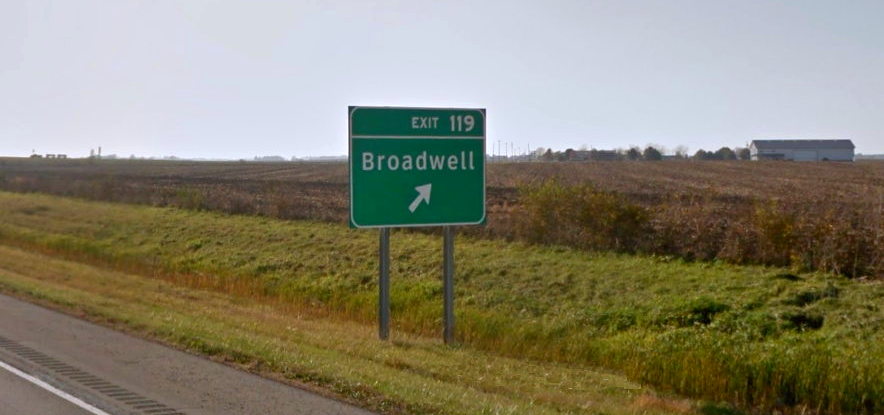 The Broadwell Family Story

My grandmother's grandmother's maiden name was Broadwell. This has always been an interesting name for several reasons. First, it is the most British of any our surnames. It is also somewhat rare, and rare names are always easier to distinguish in the genealogical record. Finally, because of an application to the DAR (Daughters of the American Revolution), we knew that this family line had been in North America for quite some time.

So I have put together this little history of the Broadwell name, as it is relevant to us. This is the result of research I did years ago, research many others have done (including Don Broadwell of Wisconsin, who sadly passed away in 2012), and new research from the fall of 2017. Every year new documents and records show up online, and search engines make the research faster and easier than ever before. Still though, there's nothing like visiting the site where an ancestor lived, and walking on their land or in a cemetary with family names. Here then, is the story, as best I know it.

Colonial Broadwells
The Broadwells appear to come from the western side of England, near Wales. Research by Don Broadwell mentions Tewkesbury, in Gloucestershire (the county, or shire, surrounding the city of Gloucester). Another source says Chacely, which is just a couple miles away. Interestingly, both are about 25 miles from the small town of Broadwell, near the River Wye which forms the border between England and Wales.

The town name seems to be too much of a coincidence. Our ancestors may have gotten their name from the town after they left, or possibly they gave the town its name. If so, that wouldn't be the last time that that happened, as you'll find out below. The town itself has been around for a very long time. There is a substantial church in the town that has a history dating back to the 12th century, apparently funded at least in part by the Templars.

It appears the first Broadwells who came over to the New World were Puritans, with an "Edward Brodwell" showing up in 1646 in Branford, Connecticut (then New Haven colony, a somewhat unofficial offshoot of Massachusetts Bay Colony). A leading minister in Branford was Mr. Pierson. When that area became officially part of Connecticut Colony, Mr. Pierson felt the new religous rules were too lax, so in 1666 he led most of the town (including apparently the Broadwells) away from Branford to make a new town in the wilderness, called New Ark (now Newark, NJ).

The next mention of the name is William Broadwell of Elizabeth Towne, NJ (now called Elizabeth). He married Mary Morse in August, 1677. She was a cousin to Peter Morse, whose great-great-grandson would be Samuel F. B. Morse, the artist and inventor of Morse Code. William's son William (they liked that name) died in 1746, his gravestone is reported to be the oldest one at the Presbyterian church of Elizabeth.

Land ownership in the colonies was rather complicated and there were competing claims as the new land was given in large tracts to government insiders with vague descriptions and overlapping ranges or transferred from one person to another. It appears the Broadwells were part of the early "Nicolls Grantees" while the Morse family came in from Connecticut under Sir George Cartaret's invitation. Cartaret was the one to give New Jersey its name. Cartaret wanted taxes from the Nicolls Grantees while they felt they owned their land outright, so the two groups were sometimes at odds. Apparently the situation was not serious enough to prevent a Broadwell-Morse marriage.


The Broadwells then settled in Morristown, NJ (another branch apparently went north into New York). Josiah Broadwell was elected county judge in 1764. Josiah was a brother to our ancestor William III. Our branch married into the Lindsley (Linsle, Lindly, etc) family on a couple occasions. It appears the Lindsley family story closely paralleled the Broadwell one, coming first to Branford and Guilford in Connecticut in the 1630's-1640's, then to Newark, but not until arriving in Morristown did any marriages between the two families occur.

One such Broadwell-Lindsley marriage was John Broadwell and Phebe Lindsley. Phebe's father was Joseph Lindsley, a major in the Revolutionary War. He was in charge of gunpowder production, and probably met with George Washington when the troops wintered twice at Morristown. It is known that Washington attended their Presbyterian church at least once, and as given in the family story, since he was an Episcopalian, he only accepted Communion after they described it as "the Lord's Table" open to all, not a Presbyterian communion table. Given the Puritan ancestry of many in the Presbyterian church, one wonders if they would have done that for just anybody.

Major Joseph Lindsley was also called the Blind Major, perhaps from a gunpowder explosion, another document suggests he became blind well after the war. What is known is that in 1791 he was the head carpenter in rebuilding the First Presbyterian Church of Morristown (he was also an elder and well respected in the church). Some 200 men assisted in the work, and the resulting structure, according to one person there, "for strength, solidity and symmetry of proportion was not excelled by any wooden building of that day in New Jersey."

Broadwells move west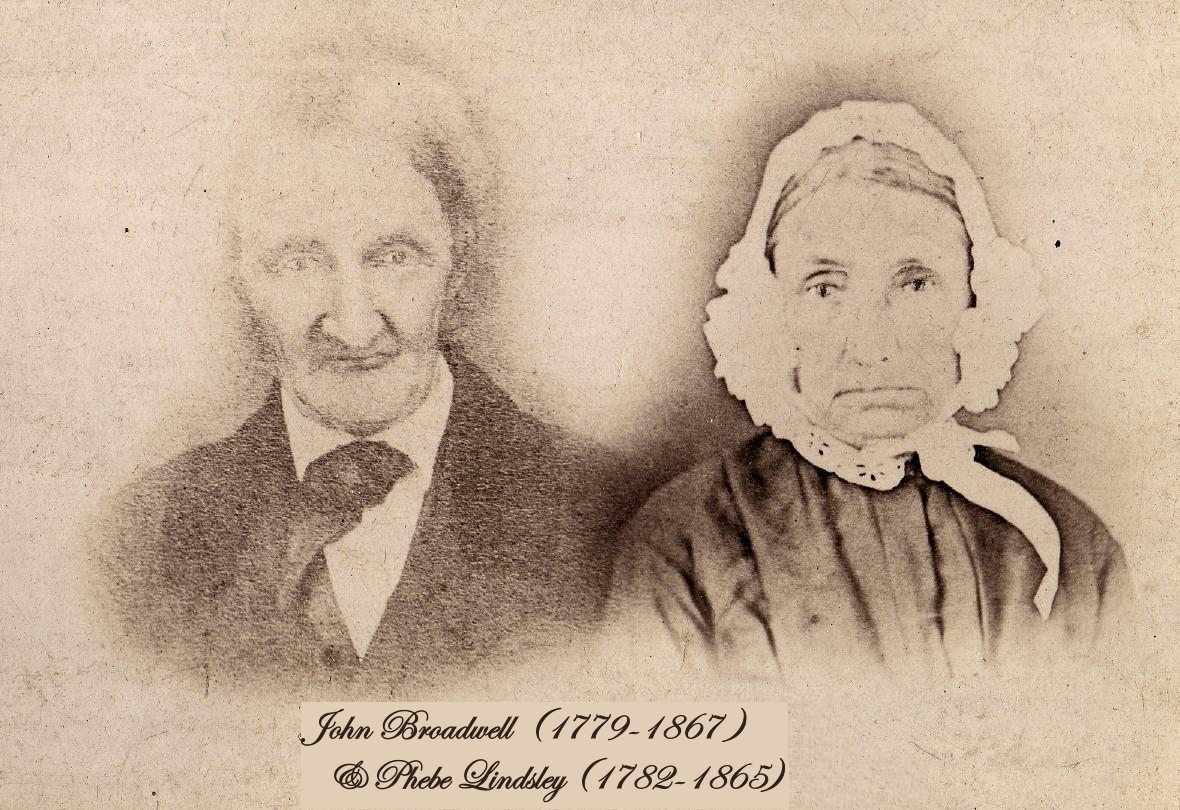 His son-in-law John Broadwell then moved into the frontier of Ohio. In 1809, John's son Henry Broadwell was born at Mt. Carmel, Ohio (near Cincinnatti), qualifying us for the "First Families of Ohio" genealogy society. Nearby is the Broadwell House of Indian Hill (built ca. 1804) and the Cyrus Broadwell House, near Broadwell Road, built 1820. Both are registered historic sites, and all of this is just east of Cincinnatti.

From here the family branched out again. One group went west, becoming early settlers of Illinois (1818-1820) as it gained statehood, specifically Sangamon County (eventually the site of Springfield, IL the state capital). Baxter Broadwell, who served in the war of 1812, was perhaps the first to come to Illinois, in 1818. His son Norman became the county judge and was reportedly an understudy to Abraham Lincoln at Springfield. Norman later became mayor of Springfield for two terms and served one term in the state legislature.

The brothers Simeon and Moses were cousins of Baxter and also came early to Illinois. Moses Broadwell apparently made the first ever trip up the Sangamon River by steamship, in 1819. Moses built a stagecoach stop at Clayville (now outside Pleasant Plains, west of Springfield). It burned, but was rebuilt in 1830. It is one of the oldest brick buildings in Illinois, and now is part of a history center. Lincoln is said to have stopped there. Moses' son William started the town of Sangamo, which rivalled the fledgling town of Springfield at the time, but was eventually abandoned. It has only recently been relocated by archeologists. One surviving story about the town of Sangamo is that Lincoln was in the town building a boat, when he saw 3 men in a canoe tip over in high waters. Lincoln put himself in danger to swim out with a rope and rescue the men. William's son William (remember, they liked that name) bought land north of Springfield, and in 1856 platted out a town on that land. Although he never lived there, it was named Broadwell. Broadwell, IL has never been a large town, but it produced two state representatives, and as it was on the famed Route 66, it had a regionally famous "Pig Hip" restaurant. It now has an exit on I-55, as seen at the top of this page. (Seeing that sign is what got me going on the Broadwell search again, after letting the Broadwell research lie dormant for many years).

Another branch moved east, to Athens County Ohio. This area has remained very rural. There they married into the Bean family, which came from Maryland by way of West Virginia. The Bean family also came to this country in the first half of the 1600's. In Athens County the family founded the town of Broadwell. As I recall when I visited in the late 1990's, it was about 3 houses and a church, I know I drove past it the first time and had to circle back to find it. Google maps doesn't even have street view for the main (only) road thru town. There's a cemetary up a hill, Broadwells are buried there and at various other places across the county. This family in Athens County includes my grandmother's grandparents, Ann Eliza Broadwell and Elijah Homer Bean. They moved to Glen Ullin, North Dakota and their son T. C. Bean wrote down his memories of frontier life in North Dakota. For my particular family line, that marks the end of the Broadwell surname. According to this site that searches the U.S. census, only 1,626 people in the U.S. have the last name of Broadwell today.


Sources and More Information

I've been adding the Broadwell line into wikitree, a unified global genealogy site, and unlike ancestry, it's free.

For more reading, check out: Researchy stuff: