For a brief listing of the Bean and Lidstrom families mentioned in the stories, go here . The family line is described in more detail below.




Theodore Clyde Bean, and the Bean/Broadwell Family



Theodore's father Elijah Homer Bean was born in scenic Athens County, Ohio in 1843. He did a stint as a foot soldier in the Civil War in the GAR (Grand Army of the Republic), perhaps spent some time in Pennsylvania, then got married at Big Run, of Athens County, to a woman from an established Cincinnati family, Ann Elizah Broadwell. Both the Bean and Broadwell families have been fairly easy to trace back.

The Bean family came to the colony in Maryland as part of, or shortly after, the initial colonization in 1634. They settled in Valley Lee, St. Mary's County, Maryland where Beans can still be found. Our branch was not content to settle in however. After a brief stop in Hagerstown, Maryland, by 1790 they were moving en masse to Hardy County, West Virginia (Virginia at the time) with some barely pausing before moving on to Ohio. Our direct ancestors moved to Ohio in the 1830's, letting cousins and siblings chase out most of the Indians earlier (there is a rumor that a related Bean traveled with Daniel Boone). At this time it took Elijah's father two weeks to travel the 150 miles west thru Virginia and cross the Ohio River with his livestock and belongings, along a route surveyed by George Washington a generation earlier, and now Route 50.

The Broadwell family came from New Jersey. The story that has been determined so far is that the Lindsley family came to south Connecticut in the 1630's. After a short period they decided to go with a group leaving the old settlement for the newly opened wilds of New Jersey. Settling in at Elizabethtowne (now Elizabeth, a suburb of New York City), they met some families who were already living there with dubious authorization. Among those families were the Broadwells. Where they came from and how long they had been there is still a mystery. The families moved a little farther west in the early 1700s, to Morristown, New Jersey, where Joseph Lindsley became a Major in the American Revolution (Broadwells and Beans also fought in the Revolution). Major Joseph was involved at the battle of Monmouth, and was known as the "Blind Major" due to an accident when he was in charge of an important gunpowder manufacturing plant near George Washington's winter camp by Morristown. He must have only been partially blinded or somewhat recovered because he later was the master carpenter in charge of 200 men building the "finest church that Morristown or that part of New Jersey had seen" (the First Presbyterian Church). His daughter Phoebe married John Broadwell. New lands were opened to the American settlers as a result of the Revolutionary War, and John and Phoebe moved to an outpost near Cincinnati, Ohio in the very early 1800's. Their granddaughter was Ann Eliza Broadwell, mother of Theo C. Bean.

So the Beans and the Broadwells were at the forefront of settlements spreading west from the earliest colonies to where these stories pick up in the Great Plains. After the Civil War, Elijah Homer Bean, father of Theodore, first moved to central Illinois, near Springfield for a few years, and then moved on to Glen Ullin, North Dakota in 1885.

I left Theodore's stories virtually verbatim, just added a couple section titles when the current section started covering two, three or more major topics. His stories occasionally move around in time, as one story would remind him of another. (His daughter (Grandma) was a great one for that - I had to ask her on more than one occasion which decade she was currently talking about)

Back to the Table of Contents or to the next section





Alma Christina Lidstrom, and the Lidstrom Family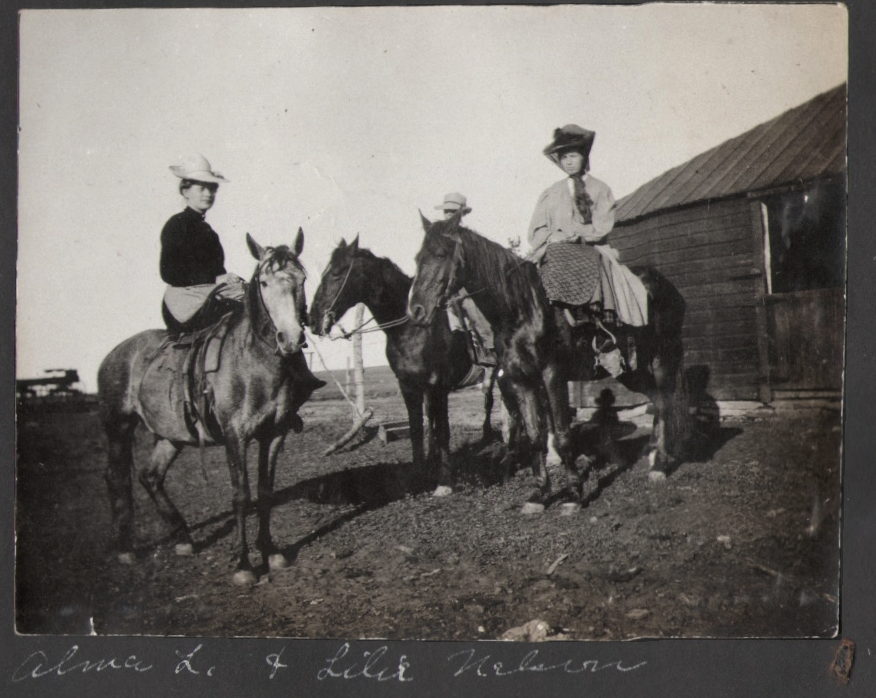 Alma Lidstrom's parents came from Sweden, settling for a time in Hastings, Minnesota. Alma was born here and shortly after the family moved near the town of Glen Ullin in 1887. Her father came from Sweden as a young teenager, probably 14. He was a rebellious sort, and not on good terms with his stepmother. The story goes that one night he complained he was cold. She counted his blankets and informed him he had enough to be warm. That was the last straw and he left for America. In the United States, he eventually found a good Baptist woman, settled down and married her.

The Lidstrom family is from Hockhult Sunne Socken, near Arvika, the nearest large city being Oslo, Norway. They were coppersmiths there for many generations, the first Lidstrom settled there as a coppersmith in 1632, and the last Lidstrom coppersmith died in 1924. Before settling in the Sunne region, they apparently had briefly lived farther south in Sweden (south of the big lake Vanern) originally coming from Germany, or the Belgium/Netherlands region, perhaps where all three modern countries meet.

My grandmother and a couple of her cousins traveled to Sweden and met their second cousins. Thanks to the internet and widespread usage of English, I also have communicated with a distant cousin in Sweden. Western Sweden is now another place on my lifetime must-see list.

The Lidstrom family was quite large, with 13 kids. Their average lifespan was a rather typical 54, but of the 9 children that lived past the age of three (not bad odds really, for the time), the average lifespan was a little over 77 years. Two sisters, Helen (who lived to 87) and Alma (87), married the two Bean brothers, Hadley (88) and Theodore (80), respectively. Not to be confused, there was also a Hadley Lidstrom, younger brother to Alma. Another two sisters married into the Stegner family, and two brothers had a double wedding, altho to apparently unrelated brides. The average age for getting married for the men was 28 and the women 24. We have the impression that people in the 1800's married young and died young, but that really wasn't the case. These families are a small sample, but still it shows that parents and grandparents and extended families existed and were an important part of life. This was true even for immigrants, but especially for the pioneers who farmed miles from town, hours from a doctor, and had nothing to rely on but themselves, their families and their scattered neighbors.

Here then, are some stories from Alma Christina Lidstrom .

Back to the Table of Contents , or the main homepage, or on to the next section .