Indian Relations




"The Indian Scare"

The year of 1890 was the time of the big Indian scare and I remember that the first I heard of it I was on my to Glen Ullin leading a young horse that belonged to a man living there. This horse was not very well halter-broken, so I had to go slow and drag him most of the time by the saddle horn. Two of our former neighbors had stayed all night at our place the night before I started to town and as they had come in from a different direction they did not know the road back home very well and I told them to go along with me and I would show them the way. We started out in the morning and had got to a place about halfway to town when we met Calamity Joe Meyers, as he was called here at that time. His horse was white with sweat and he was riding as hard as he could go. He stopped long enough to tell us that the Indians were on the warpath and that he was being sent out to warn the ranchers. I did not see anything of my neighbors until that evening when I got to town and they were there with their families as were most of the settlers in that community, all excited and not knowing what to do. I delivered my horse to his owner and then went out to our old homestead to stay all night with my father and Mr. Battis. They were there tearing down our old house to be moved down to the ranch to be used in putting up a new place for us to live in.

We were so far from any other settlers and got to town so seldom that we did not hear much about the Indians and therefore did not worry too much about them, until one night about the middle of December. My uncle and another man came down to the ranch about one o'clock with five old Springfield rifles that the Government had issued to the settlers for protection. This was the time that Sitting Bull had been killed on the Grand River and most of the people thought that that would be the time the Indians would be most likely to go on the warpath. These rifles were about six feet long and were single shot. The ammunition they used were 50-50 caliber and were rim fire. These guns weighed about eleven pounds and Mont and I carried one of them all the rest of that winter. We tried several times to shoot a deer with one of them but never had any success. In fact, we never did kill anything with one of these rifles.

Back to the Table of Contents


"The Blizzard of 1888"

This blizzard occurred while we were still living on our homestead [closer to Glen Ullin] and as far as I know was one of the worst blizzards that ever struck this part of the country. I recall that one of our neighbors and his wife came over to our place in the morning of the 12th of January to visit. The day was bright and calm without signs of a storm until sometime along in the afternoon the sky began to get hazy. Our visitors said that they thought they better start home. They only lived a little over a mile away, but they just got home by the time the storm struck. When the storm broke, the wind got to be very strong and the snow began to blow and drift. Our house faced the storm and I remember that the next morning there was a snowdrift from the keyhole in the door clear across the room to the stove. The snow was as fine as flour and the way the wind was blowing it stopped at nothing if there was any opening of any kind. There was no loss of life around here but in some localities where the storm struck earlier in the day several persons died from exposure.


Back to the Table of Contents

"Making a Living"

While we were yet living on the homestead and I was herding the sheep, one day I saw a jack rabbit on the side of a steep hill. As we were always glad to get some meat to eat at that time, I went home to get the shotgun to try and kill it for fresh meat. Our shotgun was 10 gauge and had brass shells for it, which we reloaded whenever we needed them. On this occasion when I got home I found that there were no shells loaded. When I got the powder in I found that we had no wads. So as I did not want to lose the rabbit I used green corn shucks on top of that. When I got back to where the rabbit was I found that I could not see him from the bottom of he hill so went around and came up over the top where I could see him. I took good aim and pulled the trigger. Then the gun went back behind me and I rolled over several times before I could stop myself. For awhile I thought that I had shot the wrong rabbit, but after I got up and looked for it, I saw that the gun had worked both ways, for the rabbit was dead and I proceeded to take it home.

When we first came to Dakota Territory my father tried farming but the first year he had very poor luck, so he tried it the second year but had the same results as the following will show. The Railway Co. that year furnished seed wheat to all farmers with the only string attached was to return bushel for bushel in the fall after threshing. My father and a neighbor were farming together that year and they went in and got their seed this way. In the fall after threshing and delivering the amount loaned by the Railway Co. they divided one sack of wheat between them.

Under these circumstances it was necessary for my father to get some other means of keeping the wolf from the door, so he got work breaking sod for others. Also he and a few more men got the job of breaking the fire break on both sides of the Railway a few miles west of Mandan to Glendive and back again. When not having anything else to bring a few dollars, we would go out with the wagon and pick buffalo bones of which there were a great many on the prairie at that time. We could some days pick a double wagon box full of these bones and they brought a fair price when delivered in town. One man I knew who lived about nine miles from town and had no team or other means of hauling bones would pick them up with a wheelbarrow and put them in piles, then hire someone to haul them to town for him after he had enough for a load. Also, whenever he went to town he would push his wheelbarrow to town gathering bones on his way and then bring back his groceries in it. Those were the days we worked hard for everything we got and that was sometimes not very much, but we lived through it and maybe were better off for the experience.

Now to get back to the ranch again where we moved in 1890.

Back to the Table of Contents

"Dealing with Indians"

It was customary in the early 1890's after the Indian scare for the Indian agent at Fort Yates to allow some of the Indians who could be trusted to go out of the reservation on hunting trips. These Indians came past our ranch nearly every summer for a long time and we got quite well acquainted with some of them. A petty chief named Red Fish was the man in charge and the first thing each time he came was to pull out a worn buckskin tied with a buckskin strap. This he would untie and unwrap until he came to a letter of recommendation from the Indian agent. This letter he would hand to us to read, then he would pull out a large silver medal that he had come by at some previous date for being a good Indian scout for some soldiers. He also had a letter that someone had most likely given him as a joke, for it was not in any way to be construed as pertaining to him. These Indians always had something with them that they wanted to trade for such things as flour, sugar, bread, etc. and as the blankets, moccasins, duck coats, trousers, etc. were all new and good material, the ranchers liked to trade with them for some of these articles. On one occasion my father had an idea that he wanted to get a pair of duck trousers from one of the Indians, so he started to dicker with him. We were all in the kitchen of our house and my father asked him for a trade. They did not get along very well for it was all in sign language, but the Indian finally got the idea and started to take off his trousers. My mother and a young lady who was visiting us made a hurried exit upstairs, and my father said, "No, No!! Don't take your pants off, we don't want those!"

Another time there was two or three Indians sitting in our kitchen while it was raining outside so they were there quite awhile trying to make some kind of trade. Among them was a young Indian who was making signs for some time, just as though he could not speak English. After sitting there for some time, he looked over to our cookstove and read the name of it. I asked him where he learned to read and speak English. He replied, "I am a graduate of Carlyle College." Then when I would ask him what some other Indian was trying to say, he would reply "I don't know."

I have heard it said that one could not trust any Indian but I know of at least one that did a favor for us that I do not believe very many white men would do under the same circumstances. One time after a band of Indians had left our place for about two days on their way west hunting, one of the Indians came back to our place with two of our horses that had strayed off the range. He found these horses about forty miles from our place and as he knew our brand, he had brought them back to us. We asked him to dinner and wanted to pay him for his troubles, but we could not prevail on him to accept payment of any kind.

However, I did have an experience with a half-breed that was entirely different. The half-breed came to our place one day when it was raining and said he was rounding up horses for a neighboring rancher and wanted to stay until the rain stopped. We told him that would be perfectly all right, and he was there for two more days before the rain stopped sometime in the afternoon. We did not charge him anything for the accommodation, in fact we never thought of doing so, but after he had saddled his horse and was gone a short time I happened to go to the barn and found that he had taken a quirt that I prized very highly as it was a present to me from a man who had made it for me. I was not feeling any too good about it, so I saddled up a horse and started after him hoping I could overtake him. When I had gone about one mile I came to a melon patch that we had planted in a spot that we thought would be good for melons, and he had pulled up every vine and piled them all up in one pile. I never did see him again, but I never got over the dirty trick he played on me.

Back to the Table of Contents

"Prairie Fires"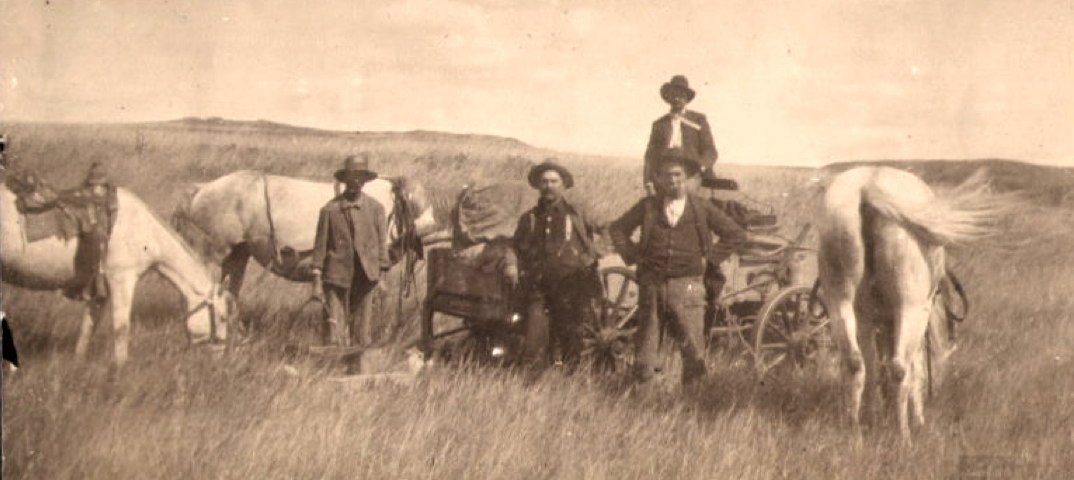 In the early days one of the most dreaded enemies of the rancher was a prairie fire and we often had to battle with them for several days at a time. If I were to describe all the prairie fires that I have helped fight it would almost take a book so I will confine myself to a few that stand out in my memory most clearly at this time.

One prairie fire that came by our place one noon I remember quite well as there was only my brother and myself at home to fight it. We put barrels in the wagon with water and rags to fight with and my brother's wife drove the team. We fought this fire all that afternoon in this manner until in the evening two of our neighbors who had been away from home got there to help us. When they came my brother's wife went home to bring out something for us to eat. Then she went back again on a saddle horse. We fought this fire all that night and until afternoon the next day when we saw some men a short distance away lying under the wagon for shade. My brother went over and asked them to come and help us put out the fire, but they said they had been hired to put up hay and not to fight fire. About the time he got to where we were I saw a man coming as fast as his horse could run. When he got to where I was he said, "Where is my hay crew?" I told him where he could find them and he went on as fast as his horse could go. It was only a short time after that that this man came back and said, "My men will be here right away with a grub wagon and when they get here you boys go to the wagon and fill up. Then you can go home and we will take it from here on." That suited us fine for we were pretty well tuckered out and we heard later that these men fought that fire almost all night and then went in to the ranch where this man lived and went to bed towards morning. However they did not sleep very long as he called them before breakfast and gave them each a check for what he owed them and told them that it is only fourteen miles to Sims, so get going. "Don't we get any breakfast?" they asked, "and do we have to walk to town?" "No, you don't get any breakfast here and we won't haul you to town either. Any man that won't go and help put out a prairie fire can't work for me."

One summer that was especially dry there were more fires than usual, and we put in as much time fighting fires as we did making hay. We camped out about three miles from the ranch while we were haying and most of the time we slept at the camp. But on one occasion all had gone home for the night except a boy a little younger than myself and me. We were sleeping under a tarp and about a midnight a storm came up as usual which was accompanied with a great deal of lightning and no rain. It was not long before my partner stuck his head out of the tarp and said there's a fire. I looked and set let it go, it is on the other side of the firebreak. I was so tired from a fighting a fire the day before that I wanted to sleep, but shortly after he stuck his head out again, and said here it is now, right here. This time when I looked I got out as quickly as possible for the lightning had struck about two hundred feet away and the fire had just started. By the time I got there, only a small place had burned off and I thought I could get it out if I could keep it from crossing a road a short distance away. I told the boy that I would fight the fire up to the road if he would stay at the road and keep it from crossing over. He was not gone long before he came back to where I was and I asked him why he did not stay at the road. He said, "I am afraid to stay there alone." So the consequences were that the fire crossed the road and got away from us. We fought it about a half a mile to the firebreak I mentioned before, but just about the time we got there the wind changed and brought it back again. We had two haystacks that we had just finished that day that were in the direct path of the fire and my only thought then was to save that hay, so we went as fast we could to the stacks and when we got there we found that two other men who were haying a few miles from us had seen the fire and were there at the stacks. We backfired around the hay and saved the stacks, then started on the main fire, which we fought until noon the next day. Meanwhile our folks at the ranch had seen the fire and had joined us. When we got back to camp and had dinner we started out again to make hay. I was running a mowing machine and my father was raking, when I heard him say, "Why don't you mow where the grass is instead of mowing where I am raking?" I had gone to sleep on the mowing machine.

Back to the Table of Contents

"Summer of 1893"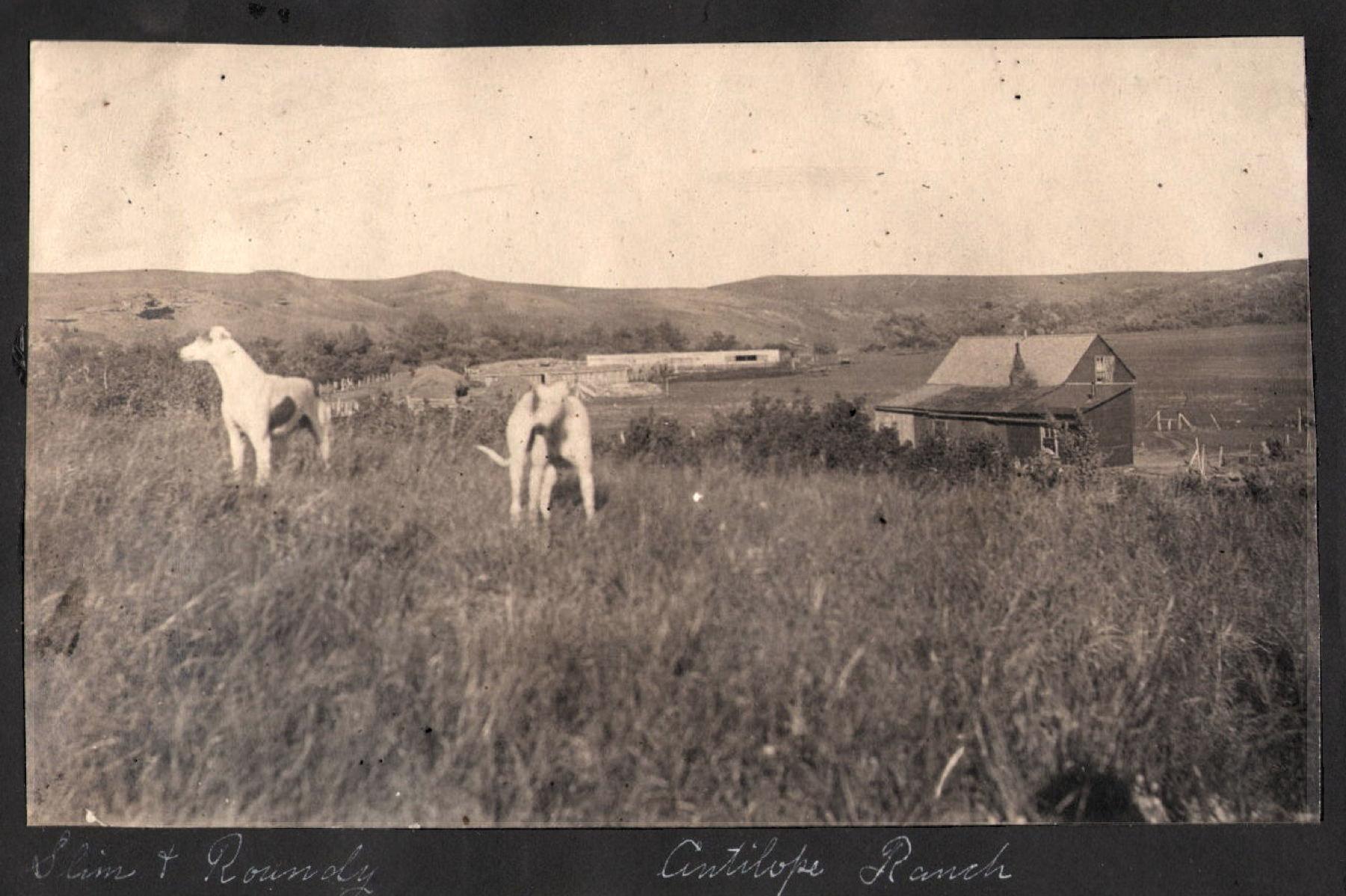 In 1893 Mr. Battis moved to Kansas and we bought his holdings on the ranch. At that time we were handling sheep but as he wanted cattle so he could drive them with him to Kansas we also bought cattle and did not have sheep again for a few years.

When they started on their long trip I went with Mont a few miles to help him get the cattle started and then said good-bye. We had become very good friends and I hated to see him go. I did not see Mont for several years until he came back to Glen Ullin to keep books for me when I had a general store.

Mont drove the cattle as far as Hot Springs, South Dakota and there it became necessary for them to sell the bunch as they had become foot sore and could not travel.

About the first of July, the summer Mr. Battis moved away from the ranch, Mont and I had a vacation of a few days and thought that we would like to go to the [Standing Rock] Indian Reservation. Accordingly we saddled up our horses started out. The second day we came to a Mr. Brown's place on the Cannonball River and stayed all night. When we told him our plans he advised us to leave our horses at his place and go with him and his wife who were going to the Fort to spend the 4th of July. He told us that as we did not have a permit from the Indian Agent to be on the reservation we might get into trouble if an Indian Police found us, but as he was well acquainted with the officers at the Fort and also knew most of the Indian Police we would be all right with him. So we went with Mr. Brown in his spring wagon and left our horses at his place. When we arrived at the Fort we went to the only hotel there and wanted dinner, but it being the 4th, all the help had been given the balance of the day off and we could not get anything to eat. The store was also closed so we did not get any dinner or supper. Mr. Brown and his wife were all right as they were staying at the home of one of the officers. There was a celebration going on about a mile away and we thought we might be able to get a lunch over there so we walked over, but all we could get was some ice cream and cracker jack which did not fill us up very much. Later in the afternoon we went back to the Fort and sat in the shade of one of the soldiers quarters. We were getting very thirsty but could not find any water, so kept going for some time and finally saw a water barrel close to one of the buildings. There was a cup there and we were just going to get some water out of the barrel when an Indian soldier came out of the building and said in good English that that water is not fit to drink. If you want to drink come inside. We went in with him and he gave us all the nice cool water we wanted. We got to talking with him and he knew just where we lived, and we had a very nice visit with him. After leaving this place we went back again to the white soldiers' quarters where we had been before and got to talking to one of the soldiers there. After we told him our troubles he said, "Well, I can't help you boys with anything to eat, but I think I can help you out with some place to sleep. You just go in with the soldiers when taps is sounded and there are a lot of empty bunks in there and you just help yourselves." Later we saw him again and he told us that maybe we better not go into the barracks to sleep as we might get caught and that would make trouble, but he said there is a warehouse in back of this building and a lot of empty sacks there that you can sleep on. When it got dark enough we went back in the warehouses and found the sacks and proceeded to go to bed, but not to sleep. First thing the mosquitoes were so bad that we could not get to sleep and then every hour we could hear the sentry call, "One o'clock and all's wellŠ Two o'clock and all's well," and so on all through the night. We got out of there as soon as we could see and went down to the Missouri River where we washed up and bought ourselves some cheese and crackers, and if I remember rightly we also got some kind of jam. With this we made a breakfast and soon after we located Mr. Brown and we went back to his place, where we had a good dinner and then started for home. We camped one night on the way home and using our saddles for pillows we slept a good deal better than we did when we were at the Fort. It was noon of the second day that we arrived home and I guess our folks must have thought that we had been on a diet for some time the way we filled up when we got to the table.

Back to the Table of Contents

"Wolves"

We had been bothered a lot at wolves killing our cattle and we observed that they seemed to make a circuit and return to our place once a week, so I would herd the cattle on those days and often saw the wolves but never got a chance to shoot one of them. There were three of them and they had killed five registered bulls for us that winter besides several young cattle. The first chance that I had to kill one of these animals was one day when I had been out hunting deer after a fresh snow and coming home I saw a fresh wolf track going into a coulee where there had been one of the yearlings killed. As I was very close to the place where the yearling had been killed I got off of my horse and walked over to the edge of the coulee and sure enough, there was Mr. Wolf eating from the dead animal. I took careful aim and at my shot the wolf began biting himself on the side and by the time I got down to where he was, he had quit kicking. I was a little careful though, before I picked him up. I poked the muzzle of my gun in his ribs to see if he was really dead. I was taking no chances. This wolf measured three feet when he was stood up on his feet. There were still two of the critters left, however, and it was not until spring that I got a chance at them. They denned about three miles from the ranch and I managed to kill one of them by chasing them with some hounds, and shooting the wolf from my horse. The other one had some pups in under some large rocks and we were unable to dig them out. I went home and got some traps and set them at the entrance of the den thinking that they might get into one of them. But upon going back the next morning I found that the old wolf had been there and gotten all of the pups out without any of them getting into a trap. It was two calves and one colt later that my brother Hadley and I found the new den and saw the pups dive in under some rocks. These rocks were too large for us to move, but there was only one opening. My brother went home for traps and I stayed and watched to see that they did not get away. While waiting for my brother to get back with the traps, the old wolf came in sight and after chasing her for some distance with my horse I got close enough to shoot her. So after ten days in which we caught ten pups, one each night in a trap, we had the bunch of wolves cleaned out.

Back to the Table of Contents

"The Sheep Shearers"

After having cattle for a few years we sold them and again went into the sheep business, but I did not do the herding. We had a herder for them all the time. One year when we had about two thousand head to shear we made arrangements with a shearing crew that always sheared our sheep to come to our place and shear for us. But as this was a very rainy season they were delayed and it got quite late. We were anxious to get the sheep sheared so we could get them out on a fresh range and I made a special trip to where they were shearing at the time to see how soon they could be at our place. They told me they would be at our place in three or four days if it did not rain anymore. So I went home and after a week had passed they were not at our place yet. About this time another crew that had been shearing on the other side of our ranch came along and wanted to shear our sheep. I told them what arrangements we had already made, but also that if our regular crew did not show up by morning, they could go ahead and shear. The next morning before breakfast our regular crew arrived. So there we were with two shearing crews and neither one would work as they could not shear together and both claimed they had the right to shear. They argued the matter all day. I tried to get both crews to shear. Each crew was willing to double up on the shearing but the leaders of both crews would not let their men shear if the other leader sheared, so there we were with plenty of shearers and no sheep getting sheared. The argument lasted all day, but the next morning the crew that we had not hired in the first place left early for their home and all was alright again.

Back to the Table of Contents

"Winter of 1896-97"

The blizzard of 1896 commenced on Thanksgiving Day and lasted for two days so severe that we were not able to look after our stock. At this time we had cattle and that fall we had bought a stack of hay from two men who were ranching about a mile and a half from our place and had decided to quit ranching and left the country. We had taken our cattle down to this place and let them run to the hay and as there was a shed there big enough to hold all the cattle (about one hundred head) we did not have to do anything with them, only see that they got plenty of water. The second day of this storm my father got pretty worried thinking that the cattle might drift away and get covered with snow, but I thought that they would be all right as there was a lot of brush all around this place. It was after noon on the third day that we were able to start down and see what had happened. The wind was so strong and it was so cold that we had to keep our faces covered with a scoop shovel we had so that we might be able to shovel the cattle out if necessary. When we arrived at the place we saw them all in the shed with their heads sticking out of the roof, they having eaten all the hay off the roof that was used to cover the shed with. The snow had drifted in the shed and the cattle had tramped it down as fast as it drifted in and were standing on about four feet of hard packed snow. As soon as we had them shoveled out so they could get out of the barn they started for home as fast as they could go, but soon ran up against snow too deep for them to get through, when we would have to shovel them out. In this way they were not long in getting home, as in most places the snow was so hard that it carried them over without breaking through. It was this winter sometime in January that a band of sheep belonging to my uncle at Glen Ullin were brought down to this place as he had run out of feed and it was thought that the sheep could make a living on the hills around this place where we had our cattle. This idea did not work out very well and it was not long before the sheep began to die off, several a day. One night that was very cold there were about one hundred that died of exposure. We did not like to see this, but we had only enough hay for our own stock, but had his herder bring the sheep up to the ranch, and then had my Uncle buy some hay that was about eight miles away, which we hauled. Before he bought this hay for his sheep we fed them from our own hay and had to haul it three miles where we had it stacked. The snow that winter was very hard in most places it would carry a team and sled, but in other places they would break through the snow. On our first trip after hay we got into a lot of trouble. In the first place, when we got to where we thought the stack ought to be we could not find it as it was covered up with snow. I knew about where it was, so prodded around with the pitchfork handle until I found it. Then we had to dig down and throw the hay up on the top, then into the hayrack. The next day if the wind had blown any, we would have to dig out the snow again. On the first trip home with hay we upset so many times that I will not try to tell just how many times we did upset for one would not believe it anyway. The next day we spent in fixing runners along the outside of the hayrack so that if we did start to upset, we could keep on going until the load righted itself.

We had to haul hay that winter every day until the first of April as it was that late before the snow melted enough for the stock to get any grass. All in all I think this was the worst winter I ever saw here in North Dakota, although the winter of 1949-1950 was also a very hard winter, but no such blizzards as the one that is known here as the Thanksgiving Blizzard of 1896.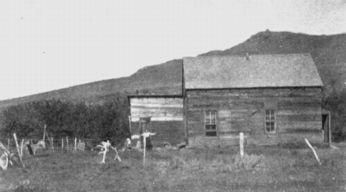 There were many more things that I could write about and add to this, but that will have to wait for another time. And I hope you excuse poor typing and wording, also hope you can understand what I have been trying to convey and enjoy reading some of the things that happened to me here in North Dakota.


Theo C. Bean
Dec. 15th, 1950

(retyped June 5th, 1962 by Bonnie Ungerecht Neff)
(put on Apple II March 3-5, 1990 by Robert J. Neff)
(put on my website, January 2001, http://rob.neff.net)


Back to the Table of Contents , or the main homepage, or on to the next section .